CORPORATE SPONSORSHIPS TO DATE: $19,750.
Event Information
Run for Kids is a 5k Walk/Run taking place at Rentschler Forest on August 14th, 2021 in support of Big Brothers Big Sisters of Butler County.
Run 4 Kids is Big Brothers Big Sisters of Butler County's largest fundraiser. It's a fun and easy way to positively impact a child's life. Because of this event, more Bigs and Littles can be paired up, more friendships can be created and improved outlooks on life can be started. Superheroes are our theme because everyone who participates is a hero to the children we serve! Remember to wear your cape! Just follow the simple steps below to participate:
Register. Participants are welcome to register as individuals or to form teams. If you are unable to participate, but would still like to help support the event and BBBS Butler County, you can register for free as an online fundraiser and still create a personalized supporter page.

If you're not able to make it in-person on August 14th, walk/run/fundraise from the comfort of your home or neighborhood!

Create A Team. Gather your friends, family, and coworkers to support you during the event. Share your personalized page to tell your story and allow them to make donations in your team's name. Aim for a team of ten people. That way, if each member raises $100, the entire team will have $1000 to defend the potential of Butler County children and youth!
Have Fun. Whether you walk, run, observe, or fly, the Run 4 Kids 5K event is a chance to be a superhero to local children.

We are combining safety and fun, so you can feel comfortable tying up your running shoes and spending a day at the park with us. We have fun for the entire family, including children games and activities, raffles, snacks, prizes, and much more.
We are keeping safety in mind, every step of the way- to ensure our event is all things wonderful, but still completely safe! Please see how we're handling Covid-19 safety protocols Here.
So what are you waiting for? Register today! Partnering with Big Brothers Big Sisters through participation in our Run 4 Kids 5K makes a positive, long-lasting impact on children in your community. Our mentoring works. It works to help broaden children's perspectives and help them learn how to make good choices. It starts a child on the path to fulfilling their potential and succeeding in school and life.
Event Location
Rentschler Forest
5701 Reigart Road, Fairfield Township OH 45011

Registration will be near the Cummins Shelter.
RENTSCHLER FOREST MAP
Event Schedule
Check-In: 8:30 am
Opening Ceremony: 8:45 am
Kids Fun Run Begins: 9:00 am
5K Walk/Run Begins: 9:30 am
Closing Ceremony/Raffles: 11:00 am
Fees
Walkers/Runners: Free Registrations! All registrants will receive a bib and be chip-timed for the 5K.
*Choose the "-with T-Shirt" option when registering to receive our Run 4 Kids 2021 T-Shirt for $12!*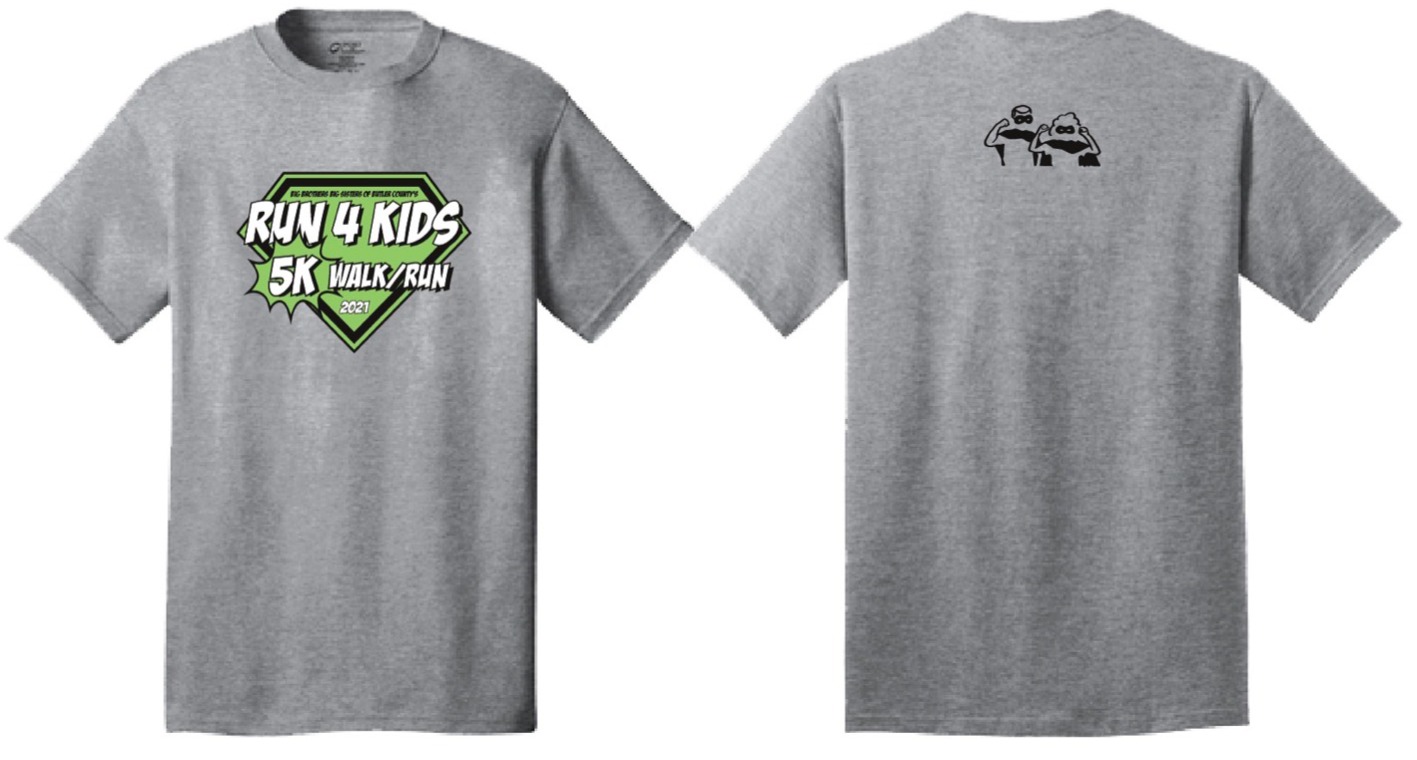 Raise $100 and you will receive a Cape with our logo on it, so the rest of the world knows you're a superhero too!
The Kids Fun Run
Remember to tie up your little one's shoes and capes for our 2021 Kids Fun Run! This year it will look a bit different in the style of a mini-obstacle course. Children will maneuver their way through five different stations, testing not only their speed, but coordination! All participants receive a medal.
Check out our FAQs for additional information!
After our Run 4 Kids 5K, we will enjoy the afternoon with Bigs, Littles, and Supporters at our

2021 Annual Celebration

. We invite you to stay after the Run from 11:30 AM - 1:30 PM for activities for all ages, an awards ceremony for our Matches of the Year, and a boxed lunch. RSVP HERE.