Can't make any of the event dates?
Have no fear! You can still support Big Brothers Big Sisters, without a team, without being outside, and without attending any of the events. Sign up as a Virtual Cornhole Player! Fundraise as much as you can to support Big Brothers Big Sisters, just as if you were attending an event. Since you can't join us for the party, we'll even mail you a fabulous prize for being with us.


How does being a Virtual Cornhole Player work?
Register as a Virtual Cornhole Player. Choose the county/counties you want to support, then on the second page of registration, choose, "Virtual Cornhole Player" (pictured below).
Customize and share your fundraising webpage. It's easy and customized pages raise more money! Just log on, upload a photo, and share your story.
Raise funds for BBBS. By sending an email, text or tweet, posting a Facebook post, or asking a few friends for support, you can make a big difference in the lives of children in your community.
Celebrate your success! MWe'll mail you BBBS swag in gratitude for your support!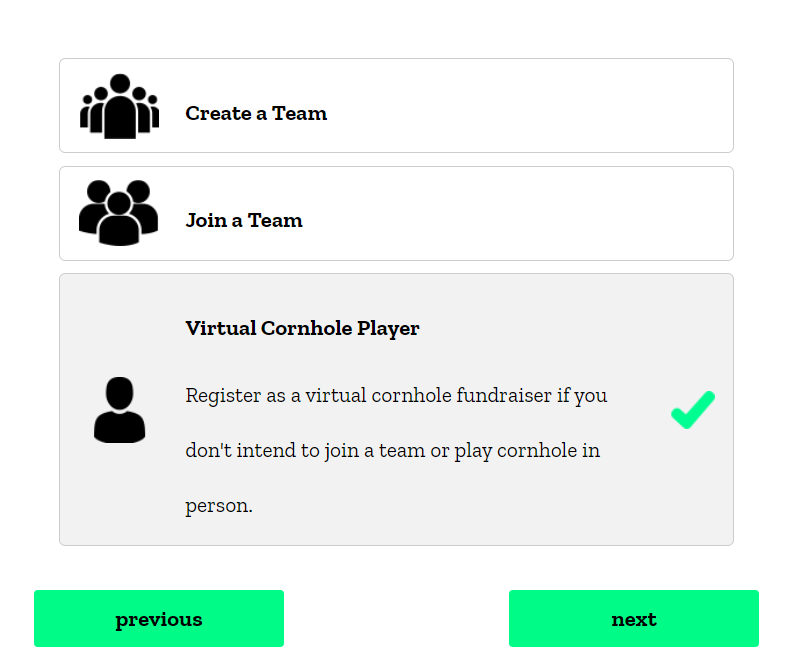 Do I need to personalize my page?
People who edit their website to explain why they are raising money for Big Brothers Big Sisters raise a lot more money. It only takes a few minutes to add a picture and a few words. If you need assistance, please contact Kori Jock by email or by calling 269-382-6800 ext. 103.


I saw that PNC is matching gifts. How does that work?
If you are new to Bowl for Kids' Sake and have never bowled with us before, Presenting Sponsor, PNC Bank welcomes you with a special matching gift to double your impact.
Every dollar you raise will be matched by a generous gift from PNC until we reach our goal of $2,500 from fundraisers new to Big Brothers Big Sisters. Your donors' gifts will be doubled!
For every $1 you raise, BBBS will get $2! When you raise $60, PNC will match it, turning your impact into $120 until new Bowl for Kids' Sake fundraisers have raised $2,500! Please note, the matching gift does not count towards Super Team status.
BBBS will track folks who are new to BFKS and their fundraising. We will make an announcement when the matching challenge has been met. Start your fundraising early to take advantage- these funds will go fast!
Use these fundraising tips to help amp up your team's fundraising efforts.


Can friends and family make a donation to me by going through the main Bowl for Kids' Sake website?
Yes. On the home page of the website, friends and family can locate you by clicking on the Donate button. By searching for your name in the search bar pictured below, they will be directed to your personalized fundraising page.

Can my family and friends donate by cash or check?
Sure! Many cornhole players find it easier to keep track of checks. Simply keep track of your donations on a donation sheet and mail everything to Big Brothers Big Sisters of Southwest Michigan | 3501 Covington Road | Kalamazoo, MI 49001. Download the donation form.

Where does the money raised from Bowl for Kids' Sake: Cornhole Edition go?
100% of the money raised through Bowl for Kids' Sake: Cornhole Edition stays here in our community. We depend on the money raised from Bowl for Kids' Sake to carry out the work of carefully matching children with caring adult mentors and providing ongoing support to the child, volunteer mentor and child's family. Check out the About section of our website for more information on how Big Brothers Big Sisters works.


All of my donors are not showing up on the scroll mechanism. Why?
Some donors prefer to keep their gifts anonymous. When someone makes a donation, they can choose if they would like to have their name, donation amount, and/or a message appear on your personal page.

Is my information secure?
Yes. Engaging Networks has made every effort to protect your information. We use industry-standard SSL encryption techniques to make sure that your credit card information, passwords, and personal information travel securely over the Internet. We have also installed an encryption engine on our database server so that your data is securely stored.

What is the long website address in my confirmation receipt?
This website address will take you to your personal donation page. This address link is automatically included in any emails that are sent through the email center in event headquarters after you have logged into the website. You can also copy and paste this link into any other form of email.