Rural New Brunswick Community Food Forest
CA$1,000
Help bring food security and education to rural NB!
Hello! My name is Tessa Wissink and I am 28 years old. I currently live and work in New Brunswick for non-profit land trust. In the past 5 years I
More...
Help bring food security and education to rural NB!
Hello! My name is Tessa Wissink and I am 28 years old. I currently live and work in New Brunswick for non-profit land trust. In the past 5 years I have become increasingly interested in the intersection of food, environmentalism, and quality of life. I have found the experiences of starting to grow my own food at home, foraging for wild food, and learning to hunt, trap, and fish extremely rewarding. I feel a much greater connection to the food I eat and the land around me then I ever have and would like to share these experiences with other wherever and whenever I can.
This project is based in my hometown of Hillsborough, New Brunswick and is a partnership with local food security organizations. Money raised will go towards continuing to develop a food forest downtown, adjacent to the Public Library (banner photo above). A food forest is a 'low-maintenance, sustainable, plant-based food production system centered on the principles of how woodland ecosystems function'. Food forests incorporate plants such as fruit and nut trees, shrubs, herbs, vines, and perennial vegetables which produce food directly useful to humans. In contrast with a regular community garden, food forests are almost completely self-sustainable ecosystems once established and provide the highest yield of food product for the lowest amount of effort and maintenance. I believe this will provide an important space for the community, which is a rural area with many families experiencing food insecurity.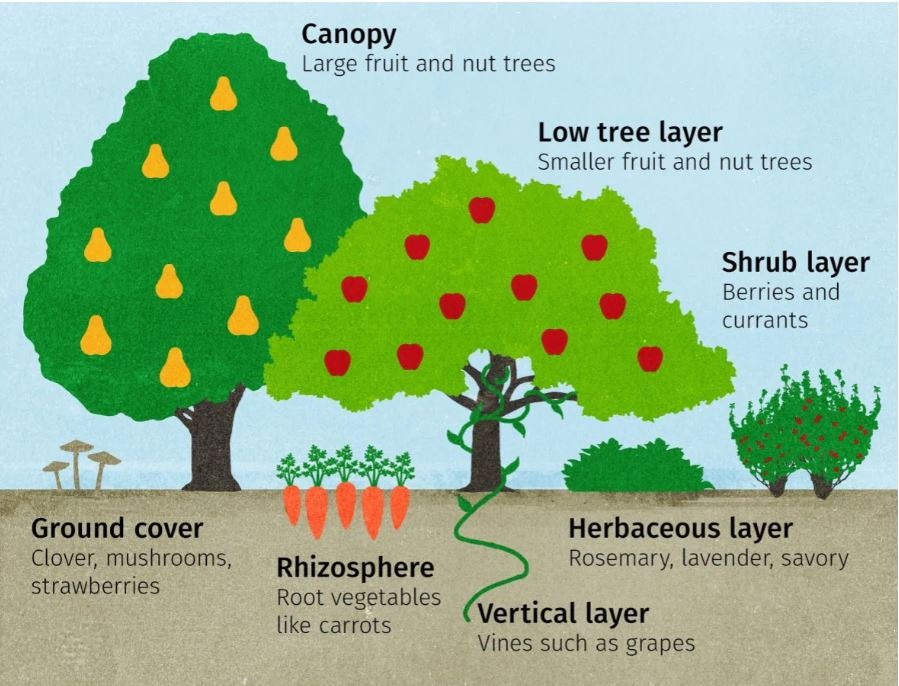 Food forests, much like natural forest ecosystems, take time to go through the appropriate stages of ecological succession. This funding will be used to help kick-start the project, but the goal is for it to continue and grow for many years. With the proper investment of time and care, the food forest will not only produce local, sustainable food, but it would also provide an educational greenspace. Urban greenspaces provide a multitude of positive benefits including benefits for physical and mental health (reduction of stress, lower blood pressure, improved mental function, increased immune function, etc.). Anyone will be able to access the food forest at any time of year to learn about growing their own food, pollinators, and how healthy forest ecosystems function. Community volunteers will provide act as stewards and the possibilities for community programs, partnerships, events, and engagement are endless.
There is a clear link between access to healthy food and quality of life and I believe the current disconnect between people and the food they eat is dangerous to our health, our environment, and our humanity overall. The importance of connecting people to where their food comes from cannot be understated, especially during the current climate crisis.
Take Root, Nurture Nature
Your Donation will protect and restore Nature and have twice the Impact!
During this strange time, Nature Canada remembers that it is important to continue to protect and restore the nature and wildlife you love. Our Nature Restoration Fund is an exciting new program that will protect and restore nature in your community and across Canada.
Give today and your gift will be matched dollar for dollar to:
Restore Nearby Nature: Provide support for community actions that will restore nature, such as helping nature groups do crucial restoration work like planting trees or removing invasive species;
Protect Wilderness and Wildlife: Advocate for new and expanded protected areas and restoration of threatened habitats that are home to species at risk;
Connect with Nature: Time spent in nature is good for our mental and physical health. Help us educate and encourage Canadians to reap the incredible health benefits of spending more time in nature.
Our world is facing twin environmental crises: mass loss of biodiversity and climate change. Right now, as many as a million species worldwide are heading towards extinction. Over half the planet's species of fish, birds, reptiles, amphibians and mammals have declined since 1970. Together we can restore the nature we all love! For 80 years, Nature Canada has helped protect over 110 million acres of parks and wildlife areas in Canada and countless species.
Processing donation...