Ramadan Raffle: Hamza Haq x UNHCR Canada (Cash Assistance) - Raffle Now Closed
CA$10,030
THE RAFFLE IS NOW CLOSED, AS OF MAY 12 2021 AT 12PM EST. No more entries to the raffle are accepted. Any donations made after May 12 2021 at 12pm EST
More...
THE RAFFLE IS NOW CLOSED, AS OF MAY 12 2021 AT 12PM EST. No more entries to the raffle are accepted. Any donations made after May 12 2021 at 12pm EST will continue to go to UNHR Canada's Cash Assistance program.
----
This Ramadan, I am excited to host a Ramadan Raffle, with the proceeds going to UNHCR's cash assistance program, which will help refugees and displaced communities in countries like Syria and Yemen. I will raffle off a piece of art, made by me! This cast iron pan was used by my family to make Roti during Ramadan and throughout the year. Now, I've turned it into a one-of-a-kind art piece.
HOW TO ENTER THE RAFFLE
For every $5 donated, your name will be entered into the draw once. If you donate $20 increments, you will receive an extra submission (your name will be entered five times, instead of four).
The winner's name will be drawn at 12pm EST on May 12, and will be contacted afterwards by email.
I will match all funds brought it through the raffle up to $5,000 Canadian. The winner be selected on May 12, 2021.
Full rules for the raffle can be found here: https://bit.ly/3elKsCT. Though the bar at the top says $5,000 is the goal, we hope to surpass it!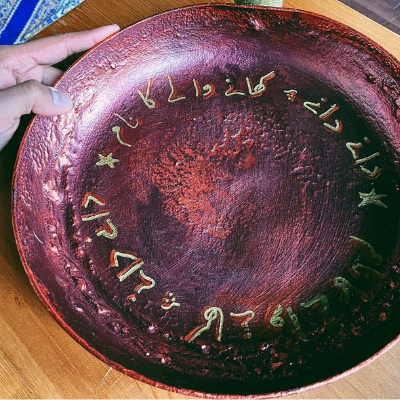 The process is fast, easy, and secure. Your contribution will make a huge difference in the lives of refugees. Not to mention that your donation is 100% tax deductible. Thank you for your support!
Fundraising for Refugees with UNHCR
The United Nations High Commissioner for Refugees (UNHCR), also known as the UN Refugee Agency, is the world's leading organization aiding and protecting people forced to flee their homes due to violence, conflict and persecution. Learn more about who we help, where we work, and how you can help today by visitng https://unhcr.ca
Processing donation...