Due to the Coronavirus (COVID-19) pandemic, the 2020 Run 4 Kids is now a virtual event!
Here's how it works:
Register. Participants are welcome to register as individuals or to form teams. If you are unable to particpate, but would still like to help support the event and BBBS Butler County, you can make a general donation or donate through a participant's or team's fundraising page.
Gather Support. Gather your friends, family, and coworkers to support you during the event. Share your personalized fundraising page to tell your story and allow them to make donations in your name.
Have Fun. Whether you walk, run, or donate, The Run 4 Kids inspires our virtual community to be healthy and to Conquer Isolation! This virtual event is super-hero themed, so be sure to dress as your favorite superhero and take pictures!
Event Location
The 2020 Run 4 Kids is a virtual event that is held wherever you are! Whether it's a local park, your favorite walking path, your treadmill, or your own neighborhood streets or sidewalks, this event is all about Defending Potential and Conquering Isolation where you are, when it's convenient for you.
Event Schedule
Dates: Complete the Run4Kids anytime between April 18 and May 16, 2020
Wear your superhero gear: It takes a superhero to Defend Potential and Conquer Isolation! Wear your favorite superhero gear, and take pictures!
When you're done: Post a pic, tagging us on Facebook and/or Instagram, using the hashtag #ConquerIsolation. (Taking and posting a picture is not required, but it's a great way to demonstrate your dedication to vulnerable youth!).
Watch your mailbox: After the end of the event, in late-May, we'll mail all registered event participants a t-shirt, all registered kids fun run participants a medal, and we'll provide a link to a certificate of completion. We'll also mail prizes to those who raise additional funds.
Run4Kids 2020 Official T-Shirt!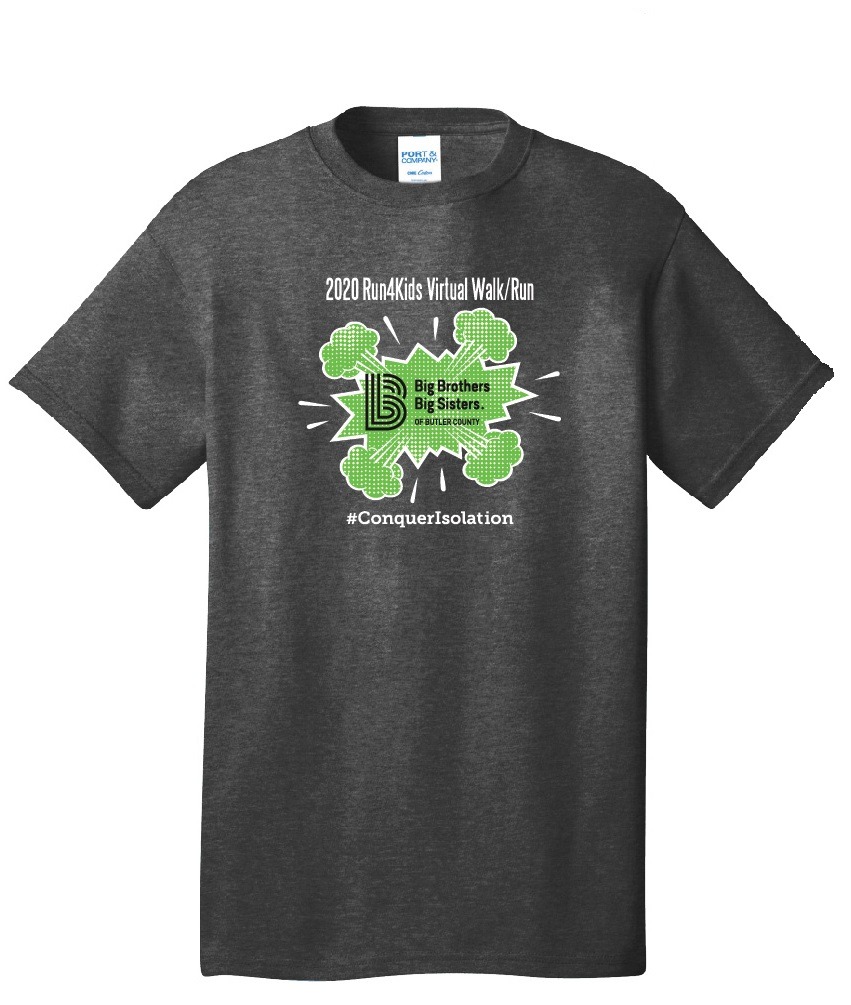 Fees
All event participants (all ages): $25
Kids Fun Run participants (under age 10): $10
Check out our FAQs for additional information!